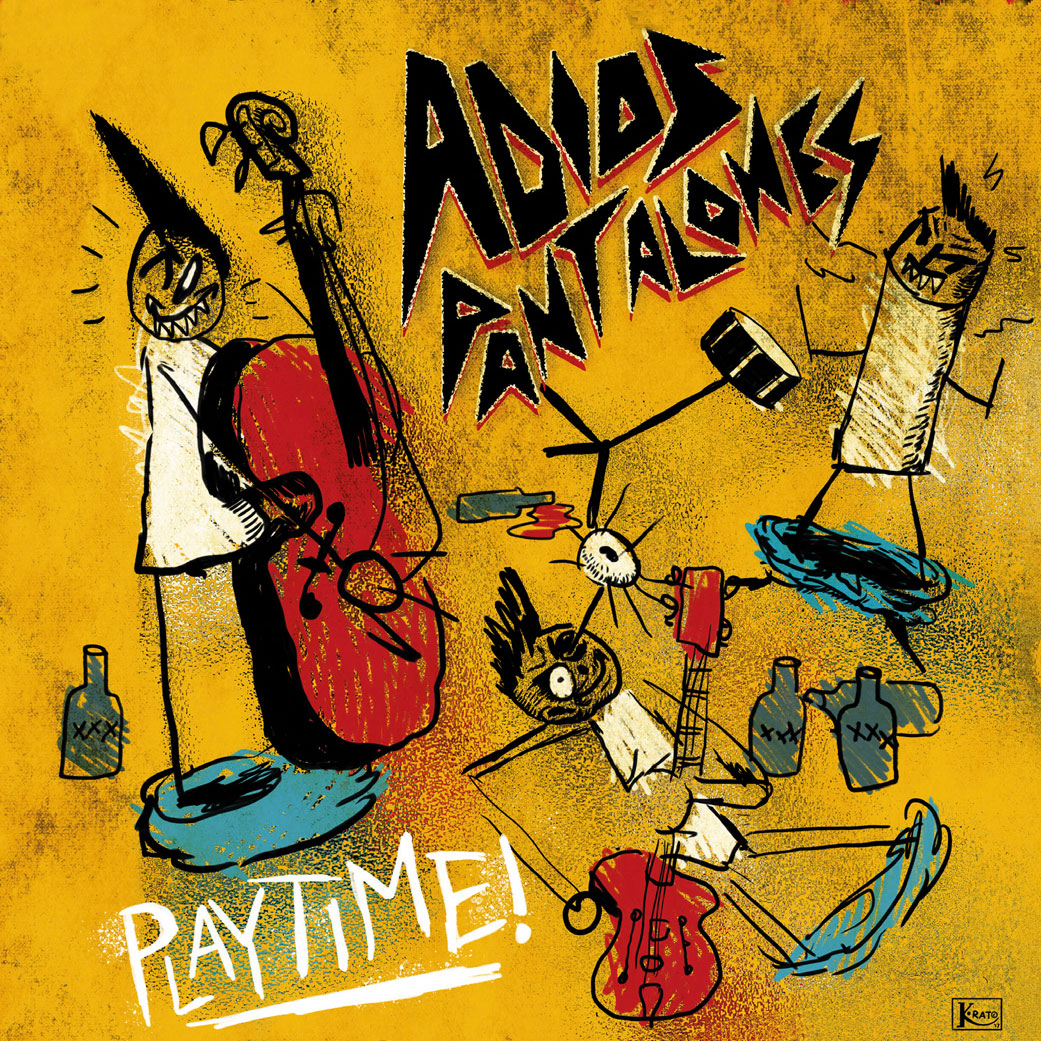 Band :
ADIOS PANTALONES
Title :
PLAYTIME !!
Format :
LP + CD ( Vinyl = Black )
CD : standard CD box
Barcode :
LP+ CD version : 4059251120940
CD version : 4059251120933
Cat. Number :
DBR20086 = LP + CD
DBR 20087 = CD
Genre:
Old School Psychobilly /R'n'R & injected with some Garage tunes
Label:
Drunkabilly records
Release Date:
22 July 2017
Tracklist LP+ CD:
Side A :
01. End of the Line
02. Setting Sail
03. Trashbeat
04. Playtime
05. Flamingo
06. Ragin' Fury
Side B :
01. Oblivion
02. Pink Buffalo
03 Fool's Crown
04. Sjock
05. Whiskeybar
06. Vlaagske
Tracklist CD ( same as LP version)
01. End of the Line
02. Setting Sail
03. Trashbeat
04. Playtime
05. Flamingo
06. Ragin' Fury
07. Oblivion
08. Pink Buffalo
09 Fool's Crown
10. Sjock
11. Whiskeybar
12. Vlaagske
As soon as Adios Pantalones burst onto the scene they stood out. These were young lads playing fast old-fashioned psychobilly that blew yer pants off. After their 2009 demo and split album Clash Of The Primitives – the splendid platter from 2013 with cowpunkabillies The Grave Brothers – they set sail to The Yellow Tape in Ghent for authentic analog recordings.
It might have taken 'em almost ten years to come up with their first long-player, but it's been well worth the wait. Sound- and songwise "Playtime!" is a time warp to the heyday of psycho in the mid-eighties, with bits of hillbilly lunacy thrown in for good measure.
Nico Pantaloné's scruffy pipes and thumping upright bass go boom over the trashbeat of drummer Gerrit Renaer. Guitar player Gilles Deschamps also created the one-of-a-kind cover art, 'cause he's a crack graphic artist as well under the name King Rat. For the record: the song title "Sjock" does not contain a typo, it's a tribute to the legendary Sjock festival in Belgium.
The "Playtime!" finale has Adios Pantalones banging an organ to go extra mental for an instrumental blowout.
This nutty ditty is called "Vlaagske", which is Flemish slang for the come n' go haze in the head after droppin' XTC. You don't need bop pills when you play this record, "Playtime!" will plunge you into a psychotic vlaagske twelve times in a row.